Donate to CRLS Crew
Please support CRLS crew with a donation to The Friends of Cambridge Athletics. Send a check to:
CRLS Crew
P.O. Box 400116
Cambridge, MA 02140
Please make checks payable to "FOCA/CRLS Crew."  Thank you for your support!
A receipt will be mailed to your address. CRLS Crew is a non-profit organization under the umbrella of the Friends of Cambridge Athletics.
All donations are tax deductible in accordance with Federal 501c3 regulations.
Employer Identification Number (EIN): 04-3480847
We accept Venmo @FOCA-CRLS-Cambridge, or just scan the QR code below!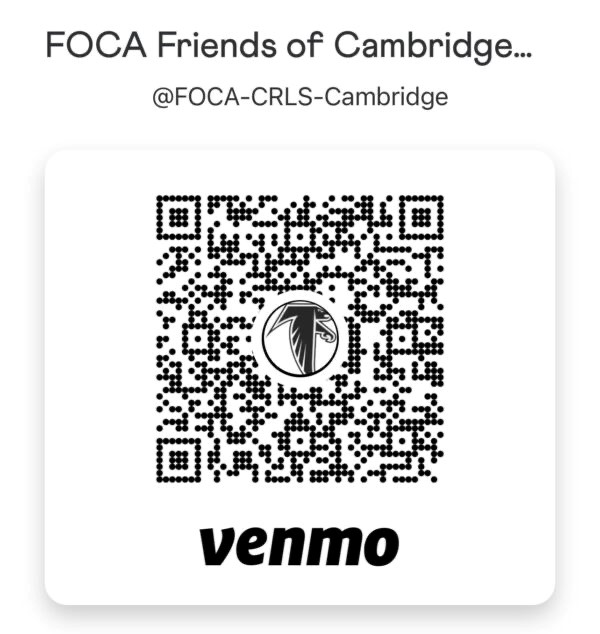 About Us
We are the Association for the Support of Cambridge Crew (ASCC) is organized and exists for the purposes of building and maintaining a girls and boys crew program at Cambridge Rindge and Latin School. It consists primarily of parents of active members of the crew. They meet monthly to organize fundraisers, provide food and transportation to regattas, organize social events and manage the team's clothing. Working with the Friends of Cambridge Athletics (FOCA), we raise operating and equipment funds for the Crew.  We are proud of the fact that there is no participation fee for spring or fall seasons but it is still an expensive sport and we appreciate the support of the CRLS Athletic Department and our generous community to help us continue to offer the chance to row to any student at CRLS.
Friends of Cambridge Athletics (FOCA)
Organized in 1997, the Friends of Cambridge Athletics came together to develop a city-wide effort to support the development and funding of athletics in the Cambridge Public Schools. Parents and community members hold several fundraisers throughout the year including the Fresh Pond City Run held in April. Working under FOCA's 501(c)3 registration, all donations to the CRLS Crew are tax deductible. For more info go to www.FriendsofCambridgeAthletics.org.